Background:
Central India epitomizes marginalization along multiple axes- geographic, development, reach of the government services, accessibility to social services in contrast to the rest of the country. Within this, the northern part of Chhattisgarh, best represented by the Surguja district and its neighboring districts, home to the largest proportion of adivasis and other backward communities occupies one of the last rungs on the development ladder. Unsurprisingly, this marginalization and inequity embodies itself in form of an unusually heavy burden of illnesses and poor nutritional status of people. Deaths due to several avoidable causes such as due to snake bites, malaria, tuberculosis, obstetric complications, sickle cell disease and several other diseases are extremely common and show themselves in very poor mortality and morbidity figures.
The improvement in social indices have been unequal even after the formation of the separate state of Chhattisgarh 20 years ago, and it does not surprise anyone that the bulk of resources have been cornered by the middle part of the state where the three largest cities of Raipur, Bilaspur and Durg/ Bhilai are located. Northern Chhattisgarh has lagged behind due to its distance, its topography and its poorer situation to start with.
Situational Analysis:
Chhattisgarh is one of the poorest states in India. It is also one of the relatively younger states of the Indian nation. Primarily an agrarian and rural state, 77% of its population live in rural areas. In addition, scheduled tribes, make up 31% of Chhattisgarh's population.
Although poverty as measured by multidimensional poverty index (MPI) reduced from 70% to 37% (bringing 7 million people out of poverty) from the year 2005-06 to 2015-16 still, more than one out of every three (37%) residents of Chhattisgarh live in multidimensional poor households. Those living in rural areas, children, and members of Scheduled Tribes are the poorest groups. In 2015-16, around 11 million – were still MPI poor, and 93% of these live in rural areas and 5.1 million were members of Scheduled Tribes.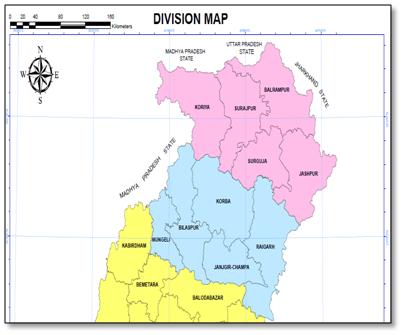 Geography & Demography- Surguja
Chhattisgarh state is geographically stratified into 5 divisions (Raipur division, Durg division, Bilaspur division, Bastar division, Surguja division) with 28 districts. Formerly many of the districts were combined, which now are separated like Sukma was associated with Dantewada, Kondagaon with Bastar, Balrampur, and Surajpur with Surguja, Mungeli with Bilaspur, Baloda Bazar and Gariyaband with Raipur, and Balod and Bemetara with Durg.
Geography & Demography- Surguja
Surguja is one of the oldest districts of Chhattisgarh. The headquarters of the district is Ambikapur. Surguja district is a great tableland of numerous hills and plateau. The two prominent physiographic features of Surguja district are the Mainpat and the Jamirpat. Pat is the local word which is used for the tableland, isolated hill ranges and peculiar physiographic formation. About 58% of the land in the district lies under forests. The main livelihood of the district is agriculture and agriculture based small industries. The hilly and tribal regions pose multiple challenges in delivering healthcare and other services – difficult geography, poor infrastructure, and high levels of under-development and poverty.
Majority of the district's population are the scheduled tribes. Among these are Pando and Korwa, who are largely still living in forested areas. Other major tribes are those of Oraon, Gond, Kunwar, Majhi, Majhwar, PahadiKorwa communities. Among these, according to local tribal leaders, the socio-economic and health indicators of the people belonging to Pando, Majhi, Majhwar and Pahadi Korwa tribes are the poorest. It is a lesser known fact that a relationship of hierarchy and exploitation can be seen among the different tribes.
Surguja is the fourth poorest district of Chhattisgarh (barring the 3 southern left-wing extremism affected districts). In the entire state, district of Surguja houses the maximum number of poor people close to 14 lakhs. It is a home to 23,59,886 people of which 89.7% live in rural areas. Close to 13 lakh people belonging to scheduled tribes live in the district that amounts to 55.1% of total district population. Maximum concentration of Scheduled Tribes population is in Batouli block (77.67 percent) and the lowest is in Surajpur district (earlier a block of Surguja district as per census 2011-31.9).
Table showing demographics of India, Chhattisgarh and Surguja District
| | | | | | |
| --- | --- | --- | --- | --- | --- |
| | Total population | Rural (%) | ST Population (%) | Literacy rate (%) | Women per 1000 men |
| India | 1,21,08,54,977 | 83,37,48,852 (68.85) | 10,45,45,716 (8.6) | 74.04 | 940 |
| Chhattisgarh | 2,55,45,198 | 1,96,07,961 (76.75) | 78,22,902 (30.62) | 71.04 | 989 |
| Surguja | 23,59,886 | 21,16,965 (89.7) | 13,00,628 (55.11) | 61.16 | 977 |
Census (2011), Primary Census Abstracts, Registrar General of India, Ministry of Home Affairs, Government of India.
Available from: https://censusindia.gov.in/pca/cdb_pca_census/Houselisting-housing-Chatisghra.html