SANGWARI-People's association for Equity and Health is starting off its work with a commonset of values, mission and vision and a desire to work in Surguja division. This work plan is a result of understanding reached after several rounds of discussion and visits to villages and health facilities in different blocks of the division. We also interacted with local community, members from civil society organizations working in the area, elected representatives from the area and several government health officials at various levels of hierarchy. We discussed and included data available about the division available through various sources like census 2011, National family and health survey-4, Annual health survey and Health management information system (HMIS) data. A detailed situation analysis based on the above is attached.
Based on the above, present strength of the team (clinical care, community engagement and training) and a desire to understand the context and the community in a more holistic way, we envisioned a 2-year work activity plan based on work objectives.
Service program and community engagement-A two tier health care service program based on Pragmatic solidarity with the marginalized communities in our area of work.
Community clinics-We would have 3 weekly community clinics which will provide quality primary care services in 3 deprived clusters in various blocks of Surguja division. This will be done after a series of meetings with local people and opinion makers. These clinics would allow community engagement through service delivery, having village meetings to understand the local population and its needs, assessment of public health systems and get directions for future health related interventions. The clinic team thus would engage in the following-

Primary health care service
Community visits and meetings
Health assessment and studying health determinants.
This clinic team will spend one and a half day each of the three field areas per week. The team would include a doctor, a community organizer, a medical records keeper, a nurse, a laboratory technician and a pharmacist. The clinic would be run in a community setting, usually in a loaned-out building by the community, and would offer registration, doctor consultation, performance of basic laboratory tests and drug dispensing from a pharmacy. We plan to have 3 such clinics every week in the next 6 months starting January 2021 in a phased manner one after the other. A detailed 6 month plan for the same is being prepared.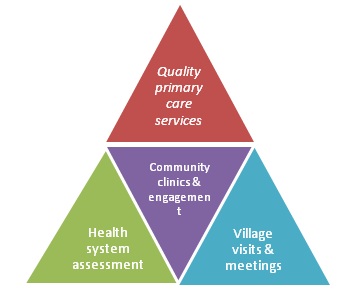 Secondary care health facility– we plan to develop a 10 bedded secondary care service which would work as-

Referral and Tele-consultation centre for our primary care clinics
Training centre of various health care staff like nurses, community health workers and other allied staff.
Specialist services for certain niche areas like snake bite, malaria, mental health, rheumatology and pain and palliative care services.
Office space for other activities
We are aware of the challenges that come with having such a service especially a 24 hour health facility in terms of time, resources and energy needed. We do not see ourselves as an alternative to public health facilities. There are also pragmatic challenges in terms of financial resources, land availability and manpower needed at present.
Thus we hope to have such a service up and running only after one year of working in Surguja. The clinical work would be decided based on practical considerations and not at the expense of community related activities and primary care work.
Training and mentoring programs– We plan to conduct training of various health workers ranging from ASHA, nurses, resident medical officer(RMO) / Community health officer(CHO), MBBS medical officer in various districts of the division and other similar requests from civil society organizations(CSO). This would be done based on expressed demand from local health administrator and CSOs on a case to case basis.
Such trainings would help us do the following-
Provide technical support in specific areas to state health systems like Malaria, snake bite training or CHO training and mentoring which would be lacking.
Supporting and strengthening ongoing state efforts through our skills to have a multiplier effect.
Improve our understanding and working of health systems in general to plan for future interventions and research like primary health system mentoring program.
To have an ongoing working relationship with government systems and civil society organizations to help us in other areas of work.
We would be doing these trainings round the year starting in the first year of operation.
Documentation and research– We intend to document both our work and processes as a method of ongoing self reflection and improvement. This would take the form of informal meetings and discussions with the community during village visits and documentation of clinical services in community clinics. The documentation of our training material will be done. Our training methods and its performance will be evaluated both qualitatively and quantitatively.
We also see a scope and need for formal research which can be attached to our primary care work in the form of the following-
Health system evaluation survey for sub centre, primary and secondary health centers through a suitable method to inform our training and mentoring program.
Community surveys pertaining to local health needs, out of pocket expenditure and issues related to access to health.
Verbal autopsy based studies around community clinics.
We believe any/all research formal or informal should be done only after we have a bond of mutual trust and respect. This would take time and we readily accept that. We also believe that published literature is one of the means of addressing our vision and not an end in itself.
We would place community at the centre of all community based research. Hence any such research and data collection will be done with their consent, with their active involvement in planning, implementation and interpretation of the study. This will help them address their needs through community empowerment and advocacy.
Planning of research activities can be done after establishing the community clinics about 6 months into our operations.
TIMELINE OF EVENTS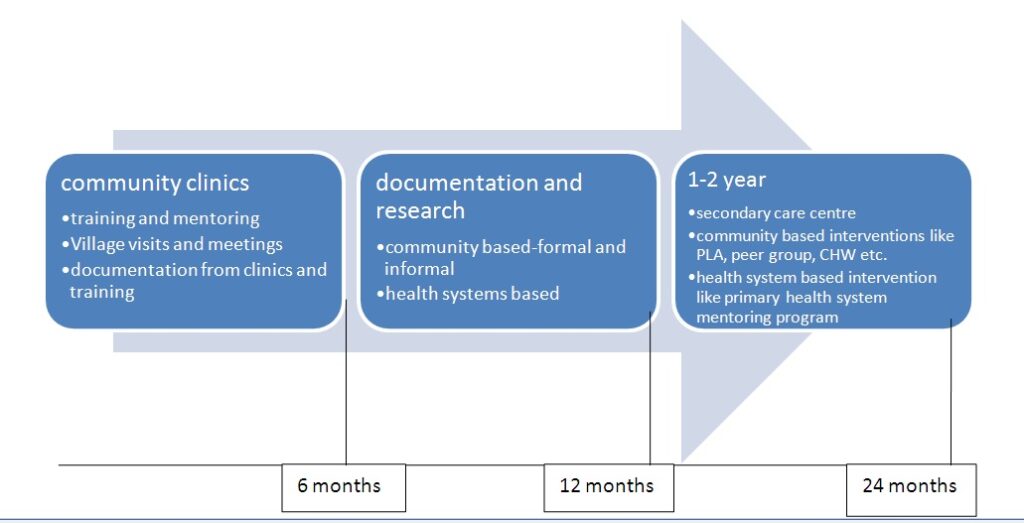 A limitation of this plan is that it is specifically focused on health. As we understand the life of the people better including their problems, we would diversify into other areas of work. A diversification of people from different backgrounds working in Sangwari in the future would also augment our understanding of the problems as well as interventions which can go beyond health. As we go on implementing this document, a flexible approach to incorporate key feedback that we get from the community, would be our collective endeavor. This document would be guided by the vision and values of Sangwari.