Biharpur is a cluster of villages at the border of Chattisgarh and Madhya Pradesh. It is a part of Odugi block of Surajpur district and is hanging by a thread. It takes 3 hours to travel from the block headquarters to this place. We went from Ambikapur to Surajpur (district headquarters) in about 45 minutes. We hired a vehicle with a local driver who knows the area well. 'Doctors going to Biharpur'- this must be some enquiry ( Biharpur had seen a major malaria outbreak a few years ago). He was relieved to know that it wasn't the case and was more of his true self.
It took us another hour or so to reach Odgi (a village which is also the block headquarter). It houses a Community health centre (a hospital at block level) which is basically an upgraded Primary health centre. We met a few officials there who expressed their inability to accompany us citing their work commitments. All of us happily agreed. We did not want the health system version of the health situation of the area. We were looking for a people's version of health situation instead. However inaccurate, exaggerated, extreme and grim, it is closer to reality.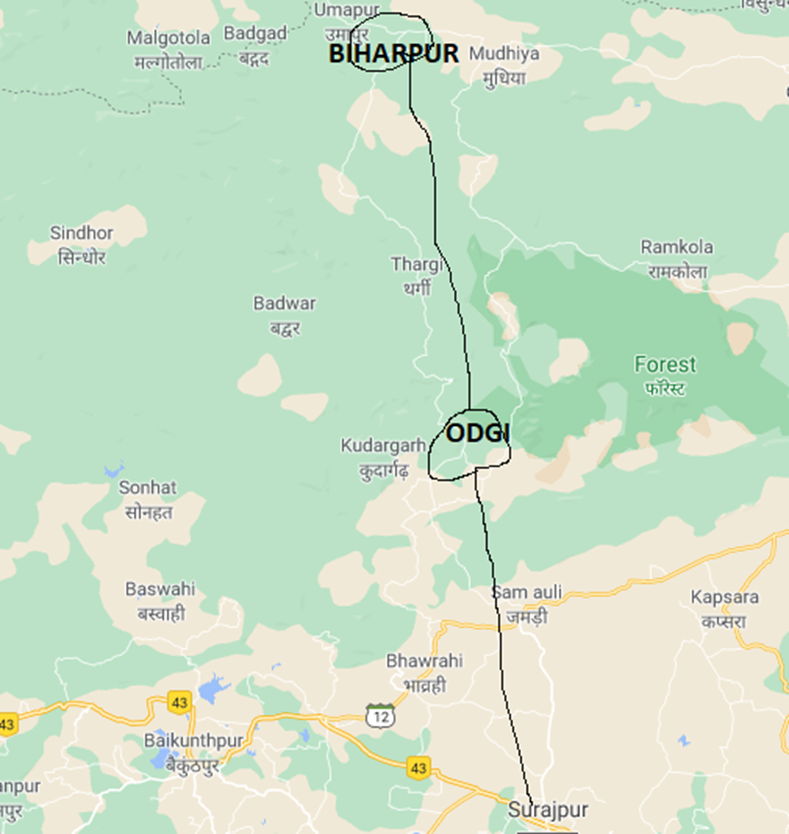 The district headquarter of Surajpur is around 320 kms from the state capital but looks part of the state and the country. Biharpur which is around 120 km from Surajpur town (district headquarters) looks to be either a strife torn country due to a war or a mutiny or a piece of no man's land or more appropriately- 'A NO WOMAN'S LAND'. The road from Odgi to Biharpur goes through a forest and up and down a hill. There are patches of concrete road in the midst of bumps of all sizes. The naive Delhite in me was also searching for a network connection on our way only to find our driver sheepishly smiling. The forest is the famous Dandkaranya forest where Ram, Lakshman and Sita spent 14 years according to the Hindu mythological epic Ramayana. Locals have identified areas with Laksman's feet and a painting made by Sita engraved on pieces of rock. Hoping against hope that such mythological tourist spots would get some well made road for safe and quick transport in the name of much mythical 'Development'!!
Biharpur is about 20-30 km from a small town/district headquarter in the neighbouring state of Madhya Pradesh. However administratively it is under Chattisgarh. The people though belong to no one. The beauty of the place; the hills, the rivers, the forests and farms contrasts the hardships of the people living there. We visited Biharpur CHC (probably the only block I know of with 2 CHCs), the only health facility in the vicinity for the people with health care needs. Biharpur is the largest of the villages in the area with the same name with a few more shops. The doctor (a non-physician health worker) had arranged for our lunch. We chatted for a few minutes, met the staff and saw the health facility. There were a total of 3 doctors- 1 Community health officer (known as Rural medical assistant or RMA), 1 AYUSH doctor (BAMS doctor) and 1 MBBS doctor ( who was not there when we visited the health facility). An MBBS doctor in rural area is a rare species, in places like Biharpur they are near extinct. It is difficult for a health system to feign even a hope of paradise in Biharpurs of the world.
We met a father of 5 kids in his late 30s. Let's call him 'Niraash' Gond (name has been changed;in rural areas it is common if all the children in the family are girls, the youngest would be named ' Nirasha' which means hopelessness). Youngest of the kid, a 3 years old was carried by a 13 year old girl who was the eldest of the sibling. 'Nirash' lost his 8 month pregnant wife to a medical illness called 'Eclampsia'. She had abdominal pain and seizures from 5 am in the morning. The 108 emergency ambulance service and Mitanin (community health worker in her village), both were not available on that day. 'Nirash' had gone out the day before for a wedding. The family spent Rs.600 to reach Biharpur PHC which is around 10 kms from their village. She was then referred to the nearest referral facility which is in another state but geographically closer than the district headquarters where she reached at 6 pm in the evening. She died there after 2 days without delivering the baby or undergoing a caesarean section. The family was contemplating taking her to another hospital (a private one), when they received the news of her death. The family spent another Rs. 1800 to get the dead body back to their village for cremation.
'Ujjwal' Pando ( name changed; government of India has a scheme which goes by the name 'Ujjwala' scheme to promote use of cooking gas cylinder (Liquid petroleum gas cylinders) in rural areas. We found one such cylinder in his dilapidated house along with a gas stove. Both were given to him under the scheme. He never used it again as he would have to spend more on cooking the food than on the food item he was cooking) lost his wife a month ago. They had 6 kids, youngest was 2-3 year old and the eldest about 18 years old was driving a vehicle for transporting local goods as a source of family income. Their village was less than 10 km from Biharpur PHC. Ujjwal lives in a house built at a distance from the main village near his farm. His wife was 9 month pregnant when she started having severe abdominal pain one night. Ujjwal  didnot have a mobile phone and thus wasn't able to call either Mitanin or 108 ambulance to help her wife. Her water ruptured but she couldn't deliver that entire night. Ujjwal couldn't arrange for a vehicle, help or hope. By the time she was taken to the PHC in Biharpur next day in the morning, it was too late for any help and hope for his wife. He told us about the ordeal after she died. As per his narration, he had put his thumb impression on a document after which an operation was done after her death. He didn't know any reason for the same nor did he have any documents. That it was told as a matter of fact than as a revelation was reflective of his state of mind, while we try to fathom the morality and legality of all that happened to the family. He got her death certificate from the hospital but gave it to a literate local shopkeeper in the hope of getting some compensation/help for the family.
For someone visiting a family where a mother died of child birth, a biomedical manifestation of social neglect, it can be a numbing experience. The bumpy ride back is not enough to jolt you out of this experience. I was tracing back a number in a government list, known in developmental and public health parlance as a 'Maternal death'. The journey fills you up with a lot of questions. One can see them with as many academic lenses as possible from clinical to public health; health systems to socio-economic, cultural and political. Removing all these layers of academic enquiries aka clothes brings forth the nudity of our society- 'How is this acceptable to us in this day and age?'
There are many Biharpurs and many such 'NO WOMAN'S LAND' across our country and the world. This may not be as common as it might have been 50 years ago, it's still not a one off story. The look of resignation to their fates on the faces of the families I visited was not an accident. That this is normalised in their lives as well as mine is a reason to believe in existence of many such places. A crying 2 year old being looked after by a 12-13 something elder sister who has been recently promoted to be the default mother in the family. A husband, after seeing people in shirts and trousers descending from a comfortable vehicle was hoping for a financial compensation. All these memories prop up, every time I see maternal death numbers now.